Siding Repair in North Brunswick, New Jersey
Do you require repairs to the siding of your North Brunswick home? James T. Markey Home Remodeling LLC has provided top-quality North Brunswick, New Jersey siding repair and replacement for years! We take great pride in creating happy North Brunswick siding repair customers year after year, by offering affordable rates and courteous repair services. Call James T. Markey Home Remodeling LLC today to schedule an assessment of your siding repair needs of any kind. We will schedule an appointment around your busy schedule and provide a fast, fair quote.
---
Call for a FREE Quote
---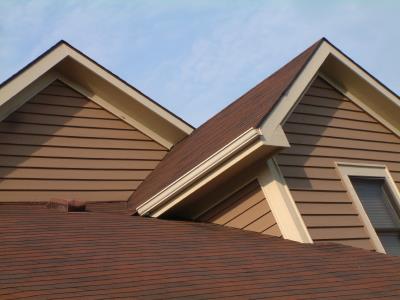 Signs its Time for Siding Repair in North Brunswick
Don't wait for a small problem to develop into a leaking roof or even more costly repairs. If you notice any of the signs below, call James T. Markey Home Remodeling LLC for a free North Brunswick siding inspection of siding and a quote for necessary repairs.
Loose or missing panels
Dented or warped panels
Cracked or split panels
Damage to soffit or fascia
Growth of mildew or mold
Leaks in siding
Flashing are rusting or broken
Quick North Brunswick Siding Repair Assessment
If you aren't sure if your home will require siding replacement or you can get buy with a repair, James T. Markey Home Remodeling LLC's honest North Brunswick siding expert will assess your siding damage and provide an estimate to repair the damage or to replace the siding if necessary. Whether you are planning to prolong the life of your existing siding with a sound repair, or whether it is time to replace your North Brunswick siding, James T. Markey Home Remodeling LLC will be happy to share our expertise with you and help you determine the best solution to your siding needs.
Expert Siding Repair Services in North Brunswick
James T. Markey Home Remodeling LLC provides efficient, professional siding repair and installations. Our well-trained and hand-selected North Brunswick siding repair experts are skilled in replacing or repairing all types of siding, including Fiber Cement Siding, Cedar Shingles, Vinyl Siding, and Aluminum Siding. Whatever your siding needs, James T. Markey Home Remodeling LLC will gladly assess your siding issues and work with you to develop a plan of attack that matches your needs and personal budget.
We will work with you every step of the way to ensure that your new or repaired siding is attractive and durable. James T. Markey Home Remodeling LLC will quickly and economically make the siding repairs you require. We'll prolong your siding investment and keep your house strong and attractive.
Types of siding we repair in North Brunswick include:
Cedar Siding
Fiber Cement Cedar Siding
Vinyl Siding
Aluminum Siding
Soffits and Fascia
Ventilation
---
Call for FREE Siding Repair Quote
Dial Area Code first please.
---
WHAT CUSTOMERS ARE SAYING:
5★★★★★ - "I had a small siding job. They did excellent work and very nice to deal with."

Maureen S. in Somerville, NJ

2016-01-22

5★★★★★ - "My wife and I have used Markey for several home improvement projects. They just completed adding window shutters to our home. Bottom line is we DON'T use any other contractor for the projects we need done, and, that they provide as a service. We've always referred friends and neighbors when asked for a referral."

Don S., Home Improvement in North Plainfield, NJ

2021-05-17

5★★★★★ - "From the outstanding installation of the windows, doors, and siding about 7 years ago to a minor but important repair today, this Company is stellar! We are so pleased with the customer service, installers, and products."

Rosann Weaver

2021-04-12

5★★★★★ - "We first had new windows installed by Markey, LLC in 2007. But after ten years, one of the windows showed signs of sun damage on the exterior facing grid. It was still under warranty, so Andrew & Co worked diligently to get a new replacement window from the manufacturer, and all is good-as-new. They stand by their work and materials, and I definitely recommend this company for the quality of what they do."

A.J.

5★★★★★ - "They did my siding a few months back. It came out beautiful. Very professional and addressed all my questions promptly. I would certainly recommend them in the future and use them again myself."

Elissa M. in Flemington, NJ

2016-01-22

5★★★★★ - "The best people for remodeling your home! They did our kitchen, bathroom, floors and installed windows. The results were beyond our expectations. Staff is friendly and efficient wouldn't trust anybody else."

Michelle C. in Old Bridge, NJ

2016-01-22

5★★★★★ - "Family owned and run. We purchased replacement windows from Markey two years ago and ordered new doors last month. Nice people to deal with. Moderate prices. Sorry Pella but you are out of my price range."

Jim B. in Somerset, NJ

2016-01-22

5★★★★★ - "I needed 3 basement windows replaced. I called a number of companies but no one wanted to come out for 3 small basement windows. I got Markey from the Clipper magazine. I called the company and they said they would be happy to come out and give me an estimate. I then went online and checked them out. I could not find a bad thing about them. The rep came on time, showed me a sample, explained how they worked and gave me a price. The price was better than I expected. I gave him the order there and then. The installers came about 4 weeks later and installed all 3 windows in about an hour and a half. Very nice job. One thing I really liked about Markey was that all his installers were W2 employees and not 1099 subcontractors, very unusual in this day and age. I will need a new roof in couple of years, if his price is good I will definitely use him." Oscar B. in Edison, NJ"

Anonymous, Replacement Windows in Edison, NJ

2016-01-22

Judith, Repairs in Bridgewater, NJ

Rudy, Window Replacement in Manville, NJ

Thomas, Window Replacement in Hillsborough, NJ

Mark T., Window Replacement in Flemington, NJ

Bob, Rina, Bryan & Brandon S. in Branchburg, NJ

Ronald & Ellie C. in Branchburg, NJ

5★★★★★ - "On behalf of myself and my family I would like to take this opportunity to thank you and your crew for the great job that you did residing our house. It really looks great! The thoughtfulness, care and pride that your crew exhibited in their work is highly commendable. I would not hesitate to use your company again for another project, nor would I hesitate to recommend you to my family or neighbors that might need any work done to their homes. Again many thanks for a job well done."

Hallie and Philip D. in Montgomery, NJ

2014-02-07

5★★★★★ - "Recently you completed the installation of 14 double hung Trimline windows and 7 basement windows as well as two attic storm windows for my animal hospital and second floor apartment. I couldn't be more pleased with the quality of the windows, their installation by your crew, the timely completion of the job and the price. Your direct and professional manner of visiting me for the initial estimate was also appreciated. Receiving compliments from my clients, I recommend then to you highly. Thank you for a job well done."

Theodore W., Window Replacement in Greenbrook, NJ

2014-02-07
---
Call for FREE Siding Repair Quote
Dial Area Code first please.
---